With 633 stores, fuel stations, offices and distribution centers, this supermarket retailer accounts for 0.3% of the UK's total electricity consumption. Our collaborative approach to the design and delivery of sustainable facilities management actively supports their financial and sustainability goals. Together, we are reducing their costs, emissions and energy consumption.
City have worked in partnership with the retailer for over 20 years, managing their energy since 2011. This innate understanding of the customer's estate and goals ensures service is continually tailored to their requirements. Our Energy Bureau combines innovative technology, customer requirements and expertise to deliver sustainable best practice.
Asset connectivity optimizing performance
Since 2011 the retailer has challenged City's Energy Bureau to deliver ongoing energy savings. The innovative connectivity of our Mercury CAFM has enabled our Energy Bureau to capture and reduce consumption, optimize performance and remotely manage assets, achieving the below reductions and savings:
Harnessing expertise to drive change
City is leading the energy market to continuously develop innovative award-winning solutions that drive efficiency and reduce costs. Our robust process for idea capture, testing and evaluation has led to this retailer investing up to $9.97million annually in energy efficiency technology with City.
City's Adiabatic Cooling System, winner of the Cooling Industry Awards 2020 Retail Initiative of the year
Triggered by air temperature rise, the system uses water to pre-cool air before it passes over the condenser. This reduces energy consumption and extends operational lifecycle, while reducing the risk of downtime by 55%.

City's Mistral Roof Unit transfers cooled air to refrigeration units on the shop floor, reducing energy use by 20% and HFC Gas consumption by 40%.

Demand Side Management
City has created the first virtual 20MW power station with thermal inertia. Balancing National Grid fluctuations at peak times and reducing the retailer's electricity transmission and distribution charges, saving in excess of $3.74m and generating $249k in 2021.

Other projects in testing as part of our Energy Continuous Improvement Plan with the retailer include:
EcoBoost, recovering waste heat from assets to heat water and air temperature while improving asset efficiency
Advanced Refrigeration Control (ARC), City's cloud-based energy optimization system to automatically optimize refrigeration depending on local and asset parameters
Defrost on demand, reducing the number of defrost cycles an asset completes while maintaining operation
Our continuous drive for energy efficiency has been recognized by invitation to the EU's ENOUGH program. The group develops and shares best practice to support decarbonization of the cold chain from farm to fork.
Enabling informed planning
Supporting the retailer's strategies, our pioneering asset connectivity and over 16,000 sub meters have created a proof-of-concept digital twin, continuously testing new systems and technology. Collaboratively we are creating intelligent and substantiated proposals delivering efficiencies and savings.
Bakery remodel
Store concessions
Supporting accurate reporting
Keeping the retailer on target for their 2025 Carbon Goals, City's analytical and collaborative approach helps to identify, measure and reduce their Scope 1 & 2 emissions while recording our related Scope 3 emissions. Our Energy Bureau are directly involved in managing and accurately reporting their Scope 1 & 2 reductions against baseline, clearly articulating progress.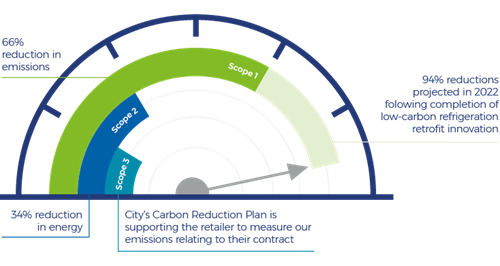 Leading the way to net zero while offering best value
Ingrained within City's culture is the value to 'Strive to Improve'. For 20 years we have been delighted to work in collaboration with this retailer, constantly developing technology and systems to increase efficiency. Having recently agreed a further 10-year contract, we relish the opportunity to deliver further energy and financial savings, aiding the retailer to achieve carbon net zero by 2040 and increase the savings to date of $2.99m relating to sustainable efficiencies.